Jura Invensys Pump 120V with inlet fitting
Click To Enlarge
Invensys pump 110/120V, 60Hz, 55W MOD CP3A with Thermostat. The thermostat (Klixon) protects the pump & disconnects power at 115C. It restores power when pump cools off. Use in all home and commercial espresso machine brands in Jura Home & Commercial models C, E, F, J. S, X and Z models, Saeco Vienna, Magic, Royal fully automatic line, Saeco semiautomatic models, all Gaggia Coffee, Classic Coffee, Carezza, Espsresso, Baby, Spidem, LaPavoni, UNIC, Magister, Astra, Expobar, Rancilio, Nuova Simonelli.
Specifications: (See drawing display)

110/120V -60 Hz cycle 1min ON-1,5 min OFF, Power absorption: 55 W
Flow Rate: from 100 to 250 mL/min at 10 Bar at 120V/60Hz
Max. Pressure (outlet blocked): from 13 to 18 Bar at 120V/60Hz
Suction power: 100mBar minimum, self priming without pressure on the outlet side (zero back-pressure).
CLICK HERE for Descaling guide
CLICK HERE for Saeco diagram & Service Manuals

We sell four Blends of Fresh Roasted Beans:
50 50 BUZZ, Espresso Bella, Macho & Decaf. beans

Order beans in 4-Oz. bags today. Discover the taste of fresh coffee.
No Refrigeration - No Air-Tight Jars - No Bean-sitting to preserve Freshness.
Experience Fresh Coffee Nirvana. Sooo good to say NO
Bean Facts:
Dark roast oily finish charrs the beans & destroys Caffeine & other essential elements. Oil seen outside the bean is obvious sign of bad & careless over-roasting. Oil on the surface comes in direct contact with air & moisture for chemical changes & rendered stale & rancid product. The coffee extract will be without Caffeine & taste burnt & bitter.
Pre-ground coffee is too fine for home espresso machine. It is stale. It can be mixture of floor swept bean scrap.

Roasted beans have limited fresh-life of 2 months in vacuum sealed bags. When the bag is opened, the freshness lasts 4 days to be consumed. Smart storage means protection from harmful contact with air & moisture. Freezing, Refrigeration or an airtight jar is not right. As the best solution for freshness of beans from the roasting to the brewing is in a smaller 4-Oz. bag.
Do not refrigerate or freeze beans. They absorb moisture, which in turn clogs the grinder burrs and may cause them to rust. Clean coffee grinder (Built in or stand alone) every three months.
Calibrate the quality of espresso every day by making espresso in a shot glass. A shot glass limits the coffee size, allowing a visual check of espresso quality. Examine the color of espresso and the thickness of Crema. For making American coffee, dilute espresso with hot water from the same machine, instead of passing more water from the same ground coffee to add bitter & burnt taste.
. . . . . . . . . . . . . . . . . . . . .
We sell four Blends of Fresh Roasted Beans :
50 50 BUZZ, Espresso Bella, Macho & Decaffienated beans
Try one today. Discover the taste of fresh coffee.

Experience Fresh Coffee Nirvana. Sooo good to say NO
. . . . . . . . . . . . .

We offer Lucrative Resale discount for Home Espresso machines
Call us with Resale Licence number & register as Resellers & Techs.
No delivery. No Installation, No service call &
No warranty worry. We take care of it all.
1- Guru's Choice Gamea Revo Automatic Espresso machine
CLICK HERE for Gamea Demo Video CLICK HERE for Gamea Revo features
20% fewer parts. No Knobs, Buttons No On-Off Switch.
Dimensions: LxWXH=17"x14"x15"

2- Saeco Royal O.T. Superautomatic Cappuccino machine
Original Pre 2006 Design - Dimensions: LxWXH=18"x14"x15"

3- Saeco AuLika Top, One Touch machine CLICK HERE for Demo video

Unrivalled choice for Home, Office, Cafeteria, Catering & Vending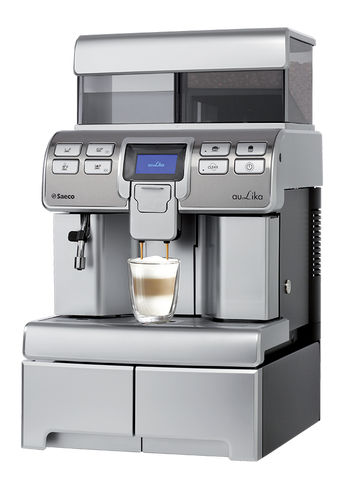 Gamea Revo Silver Gamea Revo Black Royal One Touch Saeco AuLika Top One Touch
Click picture for details.

These Home models have changed the way Classic espresso is made
Have questions? E-mail inquiries. sales@partsguru.com
Best Values
Related Items