Saeco Aqua Prima Water Filter
Saeco-Spidem Aqua Prima Water Filter cartridge for low height water tanks. Use for Saeco Magic Royal line Models Primea Ring, Odea & Talea line.

Important instructions to correctly use the "Aqua prima" filter:
1. Keep the "Aqua prima" filter cool and away from sunlight
2. Do not use the filter in temperatures over 60°C.
3. If the coffee machine is not used for 3 days, then we recommend washing the "Aqua prima" filter.
4. If the coffee machine is not used for more than 20 days, then replace the filter.
5. To store an already opened filter, seal it in a Ziplock bag and keep in the refrigerator; (not in the freezer).
6. Before using the filter, leave it to soak in the water tank for 30 minutes.
7. Once it is taken out of its pack, do not keep the filter in the open air.
8. The filter must be replaced 90 days after opening the packing or after treating 60 litres of drinking water.
Philips has moved Saeco assembly plant to Romania. We do not promote or sell Philip/Saeco espresso machines made in Romania since 2006.
We sell four Blends of Fresh Roasted Beans :
50 50 BUZZ, Espresso Bella, Macho & Decaffienated beans
Try one today. Discover the taste of fresh coffee.

Experience Fresh Coffee Nirvana. Sooo good to say NO
. . . . . . . . . . . . .

Appliance Resellers are welcome to contact us.
We offer Lucrative Resale discount for Home Espresso machines
Call us with Resale Licence number & register as Resellers & Techs.
No delivery. No Installation, No service call &
No warranty worry. We take care of it all.
Please note: We sell three exclusive fully automatic Espresso machines: Gamea Revo, Saeco Royal One Touch Cappuccino (Made in Italy) & Saeco Aulika Top High speed (Made in Italy) models. If you need additional information on machines made in Italy, please contact us. These machines are sold only by selected dealers in Washington & Ohio. These three machines are not sold through Whole Latte Love, Seattle Coffee Gear, by Large Box stores like Costco, Best Buy, Bed Bath & Beyond, Bloomingdale, Nordstrom, Target, Macys or Amazon. Philips will not import Royal O.T. or Aulika because these models are well designed & made in Italy. We do not promote or sell Philip/Saeco espresso machines made in Romania since 2006.
We sell only the best machines listed below:
1- Guru's Choice Gamea Revo Automatic Espresso machine
The first home espresso machine with Touch Screen Control
CLICK HERE for Gamea Demo Video CLICK HERE for Gamea Revo features
20% fewer parts. No Knobs, Buttons No On-Off Switch.
Dimensions: LxWXH=17"x14"x15"

2- Saeco Royal O.T. Superautomatic Cappuccino machine
Original Pre 2006 Design - Dimensions: LxWXH=18"x14"x15"

3- Saeco AuLika Top, One Touch machine CLICK HERE for Demo video

Unrivalled choice for Home, Office, Cafeteria, Catering & Vending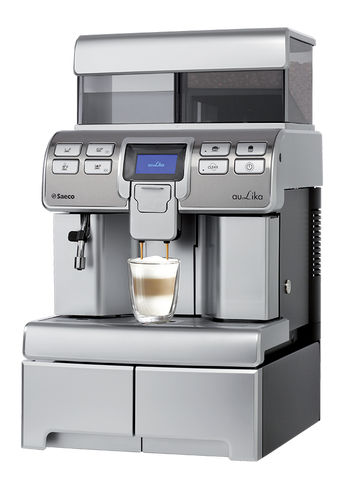 Gamea Revo Silver Gamea Revo Black Royal One Touch Saeco AuLika Top One Touch
Click picture for details.

These Home models have changed the way Classic espresso is made
Have questions? E-mail inquiries. sales@partsguru.com
Best Values
Related Items