What Our Customers Have said about us
Simon wrote from Australia:
Thank you for such a great range of videos. As a retailer of Jura, you gave us better ingormation than the Company themselves. I would recommend your services to anyone
....................................................
Name: James
I live in Canada and have just bought a Gamea Revo from Coffey's Coffee in Montreal. It is early days but we are very pleased with the Gamea both in terms of the build quality of the machine and the quality of the coffee it produces! I must also compliment you on the milk frother which produces a thick tight foam virtually the equal of any flat white I have had in Australia.
The only critique that I have at this stage is the requirement that you must adjust the volume, coffee aroma measure and temperature only after you start the coffee process. It is a bit intimidating to be adjusting any or all three on the fly when the machine is whirring/grinding etc. It is a pity that the programing approach was not to be able to set all these adjustable parameters before you actually start the coffee production process which is the logical standard in all the previous machines I have owned or used at friend's places. In our case my wife who is a certified technophobe does not like to fiddle with machines and their settings at all so we have set the default to her preference which is a large (250 ml) medium aroma (3 beans coffee) and medium temp (80C). As my standard is a single shot full strength espresso, i.e. 30 ml and 5 beans at 90C temp, there is a lot of stressful tapping of the three symbols to get that in place while the machine is motoring along!
This problem is somewhat compounded by the preference for a led type screen rather than old fashioned knobs because the only convenient location for the machine in our kitchen faces the windows which makes the screen often rather hard to see clearly (just like my smart phone!). Also the color of the water volume changes to a dark blue at some point which is even more difficult to read. don't know whether you might consider my comments above in terms of future model changes? However not confuse the above with any unhappiness, the Gamea is making a good impression on us all. Cheers, in the hope of making the Gamea even better than its already high standard James

Frustrated with old espresso machine that needs frequent expensive repairs?
TRADE-IN or UPGRADE Old machine for one of the THREE BEST Exclusive models:

1- Guru's Choice Gamea Revo Compact Automatic Espresso machine
Watch Demo Video: https://www.youtube.com/watch?v=SPtny_7-CDI
No Knobs, Buttons or Switcthes - 20% less Parts. Operate with Touch Screen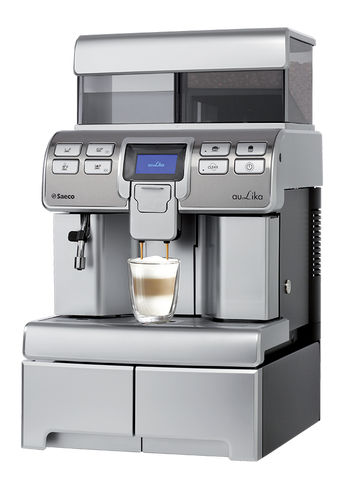 Gamea Revo Silver Gamea Revo Black Royal One Touch Saeco auLika Top One Touch
Click picture for details. CLICK HERE for features