Saeco Manually Pressurized light filter holder
Saeco pressurized filter holder with 2-cup filter basket. Use for Saeco semiautomatic models Espresso Classico, Gran Crema, Super Idea, Via Venezia, Magic Cappuccino, Athena, Barista, SIN006, Estro Profi, Rio Vapore, Athena. It is light weight and also used in all Saeco and Spidem semi-automatic pump models, LaPavoni pump models Pisa, Club Combo, PL-16 and SI Family Espresso.
CLICK HERE to watch the educational video for proper PortaFilter use, cleaning and maintenance as explained by the Guru.
Do not pay attention to those who suggest, recommend and promote modifying a pressurized portafilter into a non pressurized filter holder..
For best results, use coarse coffee grounds (like the table salt grain). Check the fineness between finger and thumb and not the adjustment knob on the grinder. Fill the filter basket with grounds and level it by running small finger across and lock it in the machine. No tamping is required. Pull the handle to the right all the way and hold it as you turn the switch on for pump to operate. Initially the water will not pass through coffee as the grip is on hold pulled to the right. This blocked flow of water builds extraction pressure to 9 bars in 6 to 8 seconds.
Release the handle grip in 6 to 8 seconds or earlier if drops of coffee start to drip in the cup (whichever occurs first). This process is called pre infusion time delay. It allows coffee to soak, swell and dissolve essential elements that make classic shot of espresso. A classic shot of espresso is never more than 2-Oz. For larger 8 to 10 Oz. Americana coffee, add hot water to the 2-Oz. espresso from the same machine.It does not make sense to pass 8 to 10 Oz. hot water from the same coffee powder, to cmake burnt tasting and bitter coffee.
Make it a habit to make one last espresso without coffee to clean the internal valve, before putting it away for the next day. This simple procedure extends the life of this filter holder. Do not disassemble by removing the three screws in the bottom for internal cleaning. It will not be easy to reassemble correctly.
Descaling is best done manually every two or three months. Click Here Best descaler from our online store & follow authentic descaling process.

Frustrated with old espresso machine that needs frequent expensive repairs?
UPGRADE your old machine for one of the THREE BEST Exclusive models:

1- Guru's Choice Gamea Revo Compact Automatic Espresso machine
Watch Demo Video: https://www.youtube.com/watch?v=SPtny_7-CDI
No Knobs, Buttons or Switcthes - 20% less Parts. Operate with Touch Screen

2- Saeco Royal One Touch Superautomatic Cappuccino machine
3- Saeco AuLika Top, One Touch machine CLICK HERE for Demo video

Unrivalled choice for Home, Office, Cafeteria, Catering & Vending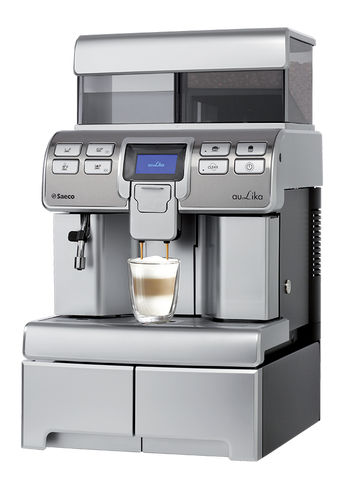 Gamea Revo Silver Gamea Revo Black Royal One Touch Saeco auLika Top One Touch
Click picture for details. CLICK HERE for Gamea Revo features
These models have changed the way Classic espresso is made
10 times better than any Jura Gaggia Breville Brands.
Have questions? E-mail inquiries. sales@partsguru.com
. . . . . . . . . . . .

Experience Coffee Nirvana. Too good to say No
50 50 BUZZ premium Non-Oily 'Espresso Roast' Beans. Regular & Decaf.
Blend of 55% Arabica & 45% of finest Robusta Beans from Brazil & Costa Rica.
NEW: Macho Beans - 90% Superior Robusta+10% Arabica Blend
If you love strong Coffee with Caffeine punch

Exclusively Blended & Roasted just right for stronger taste & Aroma
Moisture mist is not sprayed for rapid cooling for Extended storage Freshness

To maintain optimum water temperature and pressure, descale your machine every 2-3 months. Regular descaling helps prevent 70% of common malfunctions. If cycles are missed for several months, then extra descaling is recommended. One descaling cycle cannot eliminate sediment accumulated over a long period of time. Furthermore, make sure to descale the espresso side of the machine, as well. Switch machine into pre-ground mode to complete descaling of espresso side. Automated electronic descaling does not clean the espresso side of the machine. Cleancaf, Cafiza, Joe Glow, Brew Rite & Pulycaff are Baking Soda sold as "Descaler;", which are ineffective for removing sediment. Click Here to order Guru's Choice Best Descaler (DSC-6),
1- For manual descaling: Prepare Descaling solution in a container outside the machine. Pour the solution in water tank. Use 6 to 8 rinse cycles (or pre-ground coffee cycle without adding coffee powder) with pause of 5 minutes between each rinse. Refill additional descaling solution as neccessary. Next: Dispense hot water from hot water spout 1/2 cup Descaling solution at a time. Allow 5- minutes pause between each dispensing to allow the solution to dissolve Calcium sediment. Use this method every 3 months without waiting for the machine reminder.
2- R.O or Distilled water does not eliminate the need to descale. The negative electron ion on the molecule of water, it interacts with metal to form powder.
3- Avoid using dark roast oily beans. Oily beans and fine grinds produce over extracted coffee, which clogs the coffee grinder. Strong Coffee is made with less water (2-Oz or less).
4- Do not refrigerate beans. They absorb moisture, which in turn clogs the grinder burrs and may cause them to rust. Clean coffee grinder (Built in or stand alone) every three months.
5- Calibrate the quality of espresso every day by making espresso in a shot glass. A shot glass limits the coffee size, allowing a visual check of espresso quality. Examine the color of espresso and the thickness of Crema. Ask for a free shot glass with the purchase of 50 50 BUZZ bag of Espresso roast beans.
Best Values
Related Items