Flowmeter (Dosing device) FF 3/8" threads & 1.15 mm opening
Flow meter (Dosing device) with 3-pin connection & LED light. Outlet diameter 1.15 mm, 3/8" FF threads for in and out water line connection.This flow meter can replace the flowmeters without LED light.
Astra all models,
Astoria CMA models ARGENTA, BRAVA, CALYPSO, CK, CKE, CKX, CKXE, DENISE, DIVINA, DORA, GLORIA, GLORIA R12, LISA, PERLA 4D, PLUS 4 YOU, PRATIC, PRATIC NEW, SIBILLA, TANYA, VANIA;
Cimbali models M15, M20, M-27, M30;
Bezzera models B2000, B2006, B2009 COMPACT, B2013, B3000, B4000, B6000, BZ35, BZ40, C2013 COMPACT, EBBIS, ELLISSE, GALATEA, PROEX, VERTICALE;
Expobar CARAT, DIAMANT, ELEN, EXPRESSO, G10, MARKUS, MARKUS SILVER, MEGACREM, MINI COMPACT, MONROC, NEW ELEGANCE, OFFICE;
Faema models COMPACT, DUE, E92, EXPRESS
Fiorenzato models BRICOLETTA, DUCALE, FENICE, LIDO, VENEZIA;
Gicar
Grimac models MIA, NEW-CIALDA-VAPOR, SELENITE-DOUBLE, TWENTY
SAN MARCO models 100, 105, 85, 95, NEW 105,
UNIC models Diva, Diva Pro, Phoenix, Phoenix Pro, Rumba and XI;
WEGA models AIRY, ATLAS, ATLAS 10, COLOSSEUM, COMBINOVA, CONCEPT, ESPRESSA, EURO-2000, FORMULA-MILANO, JUNIOR, MININOVA, NOVA, ORION ECO, PEGASO, POLARIS, SPHERA, START, SYNTESIS, VELA, VENUS
We sell four Blends of Fresh Roasted Beans :
50 50 BUZZ, Espresso Bella, Macho & Decaffienated beans
Try one today. Discover the taste of fresh coffee.

Experience Fresh Coffee Nirvana. Sooo good to say NO
. . . . . . . . . . . . .

We offer Lucrative Resale discount for Home Espresso machines
Call us with Resale Licence number & register as Resellers & Techs.
No delivery. No Installation, No service call &
No warranty worry. We take care of it all.
1- Guru's Choice Gamea Revo Automatic Espresso machine
CLICK HERE for Gamea Demo Video CLICK HERE for Gamea Revo features
20% fewer parts. No Knobs, Buttons No On-Off Switch.
Dimensions: LxWXH=17"x14"x15"

2- Saeco Royal O.T. Superautomatic Cappuccino machine
Original Pre 2006 Design - Dimensions: LxWXH=18"x14"x15"

3- Saeco AuLika Top, One Touch machine CLICK HERE for Demo video

Unrivalled choice for Home, Office, Cafeteria, Catering & Vending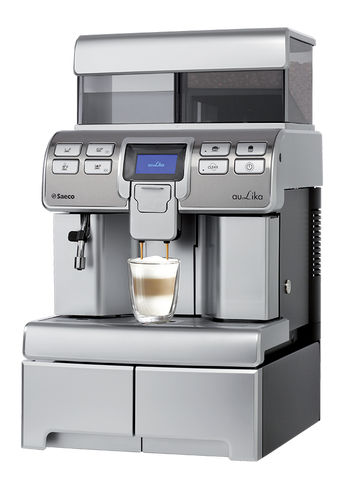 Gamea Revo Silver Gamea Revo Black Royal One Touch Saeco AuLika Top One Touch
Click picture for details.

These Home models have changed the way Classic espresso is made
Have questions? E-mail inquiries. sales@partsguru.com