Gaggia MDF Coffee dispensing Cam
Gaggia MDF grinder coffee dispensing Cam. Installation instructions are not available.
We have changed the way Beans are packed
Now 4-Oz. Bags - Vacuum Packed one-way valve - Air and moisture protected
Vacuum sealed roasted beans remain fresh for 2-months.
Beans remain fresh for 4-days when a bag is opened.
OPEN A 4-OZ BAG FRESH, JUST BEFORE BREWING.
Keep Beans Fresh until consumed
Other Fresh Roasted Beans include:
50 50 BUZZ, Espresso Bella, Macho & Decaf. beans

Order beans in 4-Oz. bags today. Discover the taste of fresh coffee.
No Refrigeration - No Air-Tight Jars - No Bean-sitting to preserve Freshness.
No more Stale & Rancid Beans for Bad tasting coffee
Experience Fresh Coffee Nirvana. Sooo good to say NO
. . . . . . . . . . . . . . . . . . . . .
Frustrated with expensive repairs of old espresso machine?
Is the repair cost of old machine higher than its resale value?

UPGRADE your machine for one of the very reliable models below:

1- Guru's Choice Gamea Revo Automatic Espresso machine
CLICK HERE for Gamea Demo Video CLICK HERE for Gamea make & model?
20% fewer parts. No Knobs, Buttons or Switcthes.
Program, maintain & Operate with Touch Screen.
Dimensions: LxWxH=16"x11"x15"

2- Saeco Royal O.T. Superautomatic Cappuccino machine
Original Pre 2006 Design - Dimensions: LxWXH=18"x14"x15"

3- Saeco AuLika Top, One Touch machine CLICK HERE for Demo video

Unrivalled choice for Home, Office, Cafeteria, Catering & Vending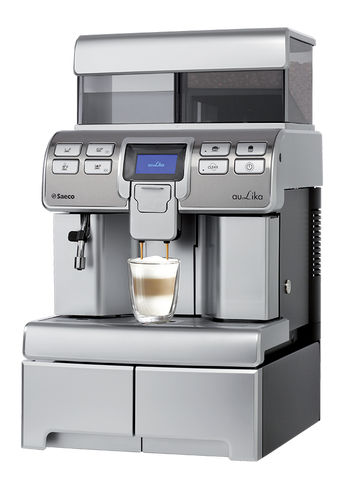 Gamea Revo Silver Gamea Revo Black Royal One Touch Saeco AuLika Top One Touch
Click picture for details. CLICK HERE for Gamea Revo features
These models have changed the way Classic espresso is made
Have questions? E-mail inquiries. sales@partsguru.com
Best Values
Related Items