Jura Pressure Hose 630mm from Legris Connector to Steam Valve
Pressure Hose 4 x 2.5 x 630 mm with one o-ring. The open ended/push connect side is inserted into the legris connector in the steam solenoid valve. The other end (with a ferrule for hair pin lock) is connected to a steam valve in the front of the machine. Pressure Hose is 630 mm in length. Suitable for following Jura Impressa and Capresso models:
Jura Impressa S-Series
S9 - S90 - S95
Jura Impressa X-Series
X90 - X95
Capresso C2000, C3000Have problem steaming milk Hot? Install Milk Flow control & steam milk Hotter.

Use Silicone tube Insert 26151 or 26151-S15 with 15" Silicone tube
The Milk container can be eliminated with the use of 15" long Silicone tube and flow control insert dipped directly in the Milk bottle.
CLICK HERE to subscribe & watch the 'Do It Yourself' instructional videos for openning the Jura C, E, F, J, S, Z, & ENA series & Saeco machines. Video guides show how to open-close machine, replace grinder, Brew group & tune up & more!
. . . . . . . . . . . . . . . . . . . . . . . .
We import four Saeco's best fully automatic Italian espresso machines. These machines are sold by our selected dealers in Washington, Pennsylvanis, New Your & Ohio & not sold through Whole Latte Love, Seattle Coffee Gear or by Large Box stores like Costco, Target, William Sonoma, Bloomingdales, Nordstrom, Best Buy, Bed Bath & Beyond, Nieman Marcus, Macys or Amazon. The Box stores know nothing about technical desails about the Appliances they sell.

If you love Coffee
Choose the Best Machine for Quality, Function & Efficiency
from Saeco's four Best models imported exclusively by Parts Guru

We do not compromise on quality - Why should you?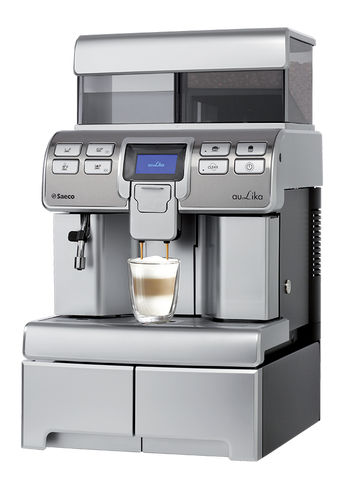 Saeco Lirika Plus Gamea Revo Silver Royal One Touch Saeco AuLika Top O.T

Unlike expensive Jura models, Saeco models have access to brew group for easy to cleaning
Have questions? E-mail inquiries. sales@partsguru.com
1- Saeco SUP041 Lirika bean to cup espresso maker 120V. CLICK HERE for details.
2- Saeco SUP041-EU Lirika One Touch CLICK HERE for details.

3- Saeco HD8930 Royal One Touch Cappuccino machine. CLICK HERE for details.
4- Aulika Top High speed (Made in Italy) models. CLICK HERE for details.
CLICK HERE for Demo video.
5- Gamea Revo with Touch screen. CLICK HERE for details.
CLICK HERE for Gamea Demo video
We sell four Blends of Fresh Roasted Beans
Try one today. Discover the taste of fresh coffee.

Do not settle for 'any' Beans. Be a Beans snob.

Best Values
Related Items