Saeco Royal One touch transparent glass for display
Saeco Royal One touch transparent glass for display.
WE HAVE CHANGED THE WAY BEANS ARE PACKED.
50 50 BUZZ, MACHO or BELLA - FRESH Espresso Beans
4-OZ. BAGS - VACUUM SEALED WITH 1-WAY VALVE.
FRESH FROM ROASTER TO ESPRESSO MAKER. AIR & MOISTURE PROTECTED
NO REFRIGERATION. NO AIR-TIGHT JARS. NO BEAN SITTING
Why pay for Stale & Rancid Beans & make Bad tasting coffee?
OPEN A 4-OZ BAG FRESH, JUST BEFORE BREWING
(Fresh until Consumed)
Four Blends to choose from. Try one today. Discover what is best.
Buy 12x4-Oz Bags & Get 4x4-Oz. Free.
NO MORE PROCRASTINATION
NO COMPROMISES

Experience Fresh Coffee Nirvana. Sooo good to say NO
50 50 BUZZ premium Non-Oily 'Espresso Roast' Beans. Regular & Decaf.
NEW: Macho Beans - 90% Superior Robusta+10% Arabica Blend
Strong Coffee with Caffeine punch
. . . . . . . . . . . . . . . . . . . . .
Frustrated with expensive repairs of old espresso machine?
Is the repair cost more than the resale valve of the old machine

UPGRADE your machine for one of the THREE BEST Exclusive models:

1- Guru's Choice Gamea Revo Automatic Espresso machine
CLICK HERE for Gamea Demo Video CLICK HERE for Gamea make & model?
20% fewer parts. No Knobs, Buttons or Switcthes.
Program, maintain & Operate with Touch Screen.
Dimensions: LxWxH=16"x11"x15"

2- Saeco Royal O.T. Superautomatic Cappuccino machine
Original Pre 2006 Design - Dimensions: LxWXH=18"x14"x15"

3- Saeco AuLika Top, One Touch machine CLICK HERE for Demo video

Unrivalled choice for Home, Office, Cafeteria, Catering & Vending
Without a doubt the above are the Best machines sold in all of USA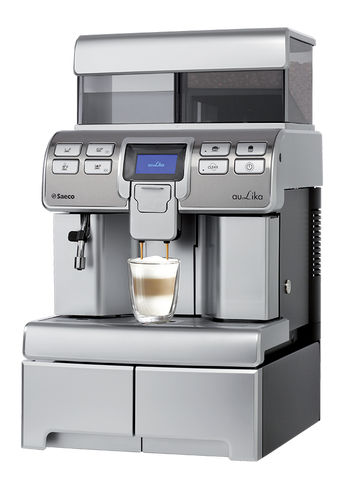 Gamea Revo Silver Gamea Revo Black Royal One Touch Saeco auLika Top One Touch
Click picture for details. CLICK HERE for Gamea Revo features
These models have changed the way Classic espresso is made
10 times better than any Jura, Gaggia, Breville Brands.
Have questions? E-mail inquiries. sales@partsguru.com
1- To maintain optimum water temperature and pressure for espresso, descale your machine every 2-3 months. Regular descaling helps prevent 70% of common malfunctions. If cycles are missed for several months, then extra descaling is recommended. One descaling cycle cannot eliminate sediment accumulated over a long period of time. Furthermore, make sure to descale the espresso side of the machine, as well. Switch machine into pre-ground mode to complete descaling of espresso side. Automated electronic descaling does not clean the espresso side of the machine. Cleancaf, Cafiza, Joe Glow, Brew Rite & Pulycaff are Baking Soda sold as "Descaler;", which are ineffective for removing sediment.
For manual descaling: Prepare Descaling solution in a container outside the machine. Pour the solution in water tank. Use 6 to 8 rinse cycles (or pre-ground coffee cycle without adding coffee powder) with pause of 5 minutes between each rinse. Refill additional descaling solution as neccessary. Next: Dispense hot water from hot water spout 1/2 cup Descaling solution at a time. Allow 5- minutes pause between each dispensing to allow the solution to dissolve Calcium sediment. Use this method every 3 months without waiting for the machine reminder. Click Here to order Best descaler from our online store & follow authentic descaling process.Use this method every 3 months without waiting for the machine reminder.

2- Never use R.O or Distilled water. It does not eliminate the need to descale. The negative electron ion on the molecule of water interact with metal to form powder.
3- Avoid using dark roast oily beans. Oily beans and fine grinds produce over extracted coffee, which clogs the coffee grinder. Strong Coffee is made with less water (2-Oz or less).
4- Do not refrigerate or freeze beans. They absorb moisture, which in turn clogs the grinder burrs and may cause rusting. Clean coffee grinder every three months.