Ugolini MT Auger Bushing 4-pc.Kit
Ugolini Auger Bushing set for all magnetic drive (MT) models. Includes rear wall front bushing (Male) # 10028.02801 (2) and Auger bushing (Female) #10028.02803 (2).The instruction to replace these bushing are not in the Manual and no technicians know or care to remind owners of the dispensers.

Rear wall front bushing is like a nipple sticking on the front of rear wall (part at position # 10 on the parts diagram) is pressed on a plastic stub (without threads or screws). To remove it, grab the bushing with nose pliers (from the side) and turn the pliers up and down to free it and then pull straight out, away from the rear wall.
Alternatively, insert sharp edge of a knife between the grey rear wall and the lip of the bushing (careful to not damage the rear wall). Slowly and carefully nudge the bushing away from the wall. It may be necessary to press the sharp edge of the blade from the top and from the two sides of the bushing, before it comes out far enough to be pulled out.
The auger bushing (position #11 on the parts diagram) is pressed into recessed space in the rear end of the magnetic inner auger (No threads or screw). To remove, use a flat screwdriver and press firmly to pry it out. Lubricate the hollow space with food grade lubricant before pressing the new bushing in.
For exploded diagram use the link http://www.partsguru.com/UgoliniMagneticDriveModels.html
. . . . . . . . . . . . . . . . . . . . .
We sell Faby Skyline - the world's Best slush machines
It holds better than BUNN Ultra & GBG, at higher ambient temperatures
LED lights illuminate product brighter & better than other brands.

For Homes, Businesses, Restaurants, Corporate dining, Rentals, Catering & more
Faby Skyline Fast Freeze 2-Bowl - Lowest price in USA
. . . . . . . . . . . . . . . . . . . . . . . .

CLICK HERE to download Crathco Illustrated complete parts list.

Crathco 2x5 gal. container Model D25/4 Crathco 2x9 liter container Model E29/2
Crathco - World's Best Juice dispensers.
Simple to instal, operate & maintain

2-year warranty for electrical parts & labor
For routine maintenance of slush machines:
1- Lubricate moving parts, seals and gaskets. It extends life of parts.
2- Keep condenser coil clean for maximum ventilation. It extends the life of compressor.
3- Sanitize product contact parts with NSF approved Stera Sheen Green sanitizer every two weeks.
CLICK HERE to purchase the NSF Approved Food Grade Lubricant for lubricating moving parts and seals.
Have questions? Email inquiry to salea@partsguru.com

. . . . . . . . . . . . . . . . . . . . . . . . . . . .
We import four Saeco's best fully automatic Italian espresso machines. These machines are sold by our selected dealers in Washington, Pennsylvanis, New Your & Ohio & not sold through Whole Latte Love, Seattle Coffee Gear or by Large Box stores like Costco, Target, William Sonoma, Bloomingdales, Nordstrom, Best Buy, Bed Bath & Beyond, Nieman Marcus, Macys or Amazon.

Choose the Best Machine for Quality, Function & Efficiency
from Saeco's four Best models imported exclusively by Parts Guru

We do not compromise on quality of what we sell.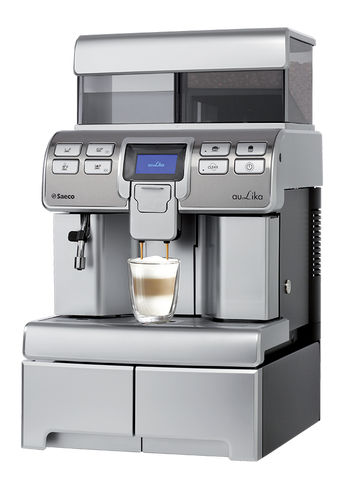 Saeco Lirika Plus Gamea Revo Silver Royal One Touch Saeco AuLika Top O.T

Unlike expensive Jura models, Saeco models have access to brew group for easy cleaning
Have questions? E-mail inquiries. sales@partsguru.com
1- Saeco SUP041 Lirika bean to cup espresso maker 120V. CLICK HERE for details.
2- Saeco SUP041-EU Lirika One Touch CLICK HERE for details.

3- Saeco HD8930 Royal One Touch Cappuccino machine. CLICK HERE for details.
4- Aulika Top High speed (Made in Italy) models. CLICK HERE for details.
CLICK HERE for Demo video.
5- Gamea Revo with Touch screen. CLICK HERE for details.
CLICK HERE for Gamea Demo video
. . . . . . . . . . . . . . . . . . . .

We sell four Blends of Fresh Roasted Beans
Try one today. Discover the taste of fresh coffee.

Do not settle for 'any' Beans. Be a Beans snob.
. . . . . . . . . . . . . . . . . . . .

We recommend & sell World's Best Zummo juicer
as Zummo juicers have fewer parts, to clean & maintain.
Zummo juicers squeeze 10% more juice than all other juicers.
Zummo juicers have patented Efficient Vertical Squeeze (EVS) system.
Zummo EVS system uses cups like two hands
grab the fruit & slice on the blade & squeeze best tasting juice

Zummo model Z06 Zummo model Z01

CLICK HERE for Zummo Z06 Demo Video
New Profit center for Businesses, Diners, Rentals, Catering & more
Best Values
Related Items